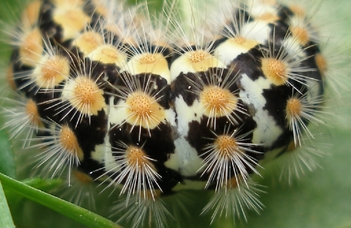 Department of Systematic Zoology and Ecology
head of dept.:
address:
room:
phone:
fax:
web page:

Gábor Herczeg professor
1117 Budapest, Pázmány Péter sétány 1/C.,
7.719
(+36-1) 381-2193; (+36-1) 372-2500 / 8093
(+36-1) 381-2194
systzool.elte.hu
About
Research and educational activities in the Department span the full range of ecology and systematic zoology, however, the effort to understand biodiversity joins these diverse branches of biology. All subdisciplines in the scope of our Department are relevant at the population and community levels. Educational and research activities cover zootaxonomy and systematics, ecology, behavioural ecology, hydrobiology, bio-geography, evolutionary biology and conservation biology.
Applied research methodologies include a wide range of approaches, e.g. field observation, field and laboratory experiments as well as molecular laboratory diagnostics. Field-work opportunities expand to terrestrial, aquatic and cave environments.

Education
Systematic zoology course has been taught since 1934, the foundation year of the Department. At present the subject is integrated into a fully comprehensive course about the diversity of living organisms. From the 1960s onward, ecology and biogeography have been taught as separate courses. During the forthcoming decades the spectrum of mandatory courses broadened due to the appearance of other subdisciplines relevant at the population and community levels: behavioural ecology, hydrobiology and conservation biology. Special courses are offered to the interested students in additional fields, such as marine biology, speleology and protistology.

Research
All our studies have been conducted at the supra-individual level (populations, species and higher taxa) – an unifying feature in our diversified fields of research. Nevertheless, we often rely on methodologies of physiology, genetics or molecular biology to assess certain research goals. Range of applied model organisms spans from amoebae through enchytraeids and arthropods to vertebrates. Overhelming majority of ecological investigations are completed in nature, e.g. at the research station in the Pilis-Visegrád Mountains (in the frame of the ELTE Pilis Project), where hole-nesting passerine birds have been investigated for more than 30 years.
Current research topics at the Department are as follows:
Characterisation of endobiont prokaryotes in amoeboid organisms
Description of new cercozoan testate amoebae in the Danube
Morphology and phylogeny of Arcella species
Diversity and conservation of orthopterans in the Carpathian-Pannonian Region and the Western Balkans Region
Ontogeny and evolution of between-individual behavioural variation (animal personality)
Means of adaptation to variable environments (adaptive evolution, adaptive phenotypic plasticity)
Evolution and biogeography of cave biota
The structural basis of individual variation in plumage colour (macrostructure, nanostructure and their regularity), mechanisms of rapid colour change
Cultural evolution of birdsong
Mechanisms of sexual selection in birds
Climate change and life history of birds
Oxidative stress and fitness (birds and lizards)
Fitness related traits in birds
The effects of ecological and social factors on vertebrate reproduction (courtship, number and sex of offspring, parental care), and its physiological background
Monitoring of protected and strictly protected mammal species of the Carpathian Basin
Taxonomic, faunistic and nature conservation researches on the grasshoppers (Orthoptera) occurring in Central and Southern Europe
Road ecology
Anthropogenic impact on the environment

Life at the Department
Academic staff and postdoctoral fellows carry out research on a very broad range of topics together with many students (BSc, MSc, PhD levels). This creates an inspiring and effective working environment. We often host guest scientists, while members of our department staff participate in several foreign research projects, thus, international relationships affect our everyday life.

Career opportunities
Students graduated from our Department may continue their education toward an academic career in Doctoral Schools of the Faculty, especially in our own Doctoral Program. After PhD degree they can attend university department staff or university and academic research groups in Hungary or abroad, respectively. People holding Master of Science degree may find professional positions in the field related to nature conservation, e.g. national parks or governmental agencies. Taxonomists may get a job in natural history museums.

How to attain a research career in the above mentioned research fields?
Those who wish to become a behavioural ecologist, a hydrobiologist or a zootaxonomist are suggested to get a Bachelor's Degree in biology first, for creating a professional knowledge foundation in the related fields of science. After that we propose completing the Master's Program in biology, including individual research activity joining a scientific research group, offering in-depth study of the discipline.
Finally, to fulfil the target of education we recommend to attend the Zootaxonomy, Animal Ecology, Hydrobiology Program of the Biology Doctoral School and get a PhD degree.