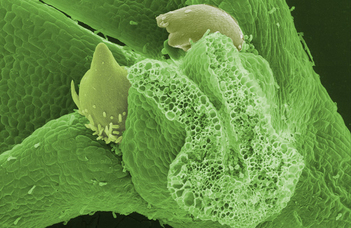 Department of Plant Anatomy
head of dept.:
address:
room:
phone:
fax:
web page:
Gábor M. Kovács professor
1117 Budapest, Pázmány Péter sétány 1/C.,
4.508
(+36-1) 381-2165; (+36-1) 372-2500 /8065
(+36-1) 381-2204
plantanatomy.elte.hu/en/
Description of the specific field
The Department undertakes a range of research activities focusing on studies within the fields of plant biology and mycology. Investigations into plant organization focus on the structure of plant cells, tissues, and organs, whilst the work on fungi and plant-fungal interactions includes both functional and diversity studies. Another major research area is centered around various secondary metabolites of plants and fungi.
In addressing the questions associated with these research areas it is crucial to consider the developmental and evolutionary contexts as well as the interactions with biotic and abiotic environmental factors. This is achieved through complementing the primary microscopic and analytical methods with studies drawing upon contributions from the fields of molecular biology, genomics, physiology and ecology, with occasional overlap into the fields of agriculture, medicine, and the food industry. By this means, an overall multidisciplinary approach is promoted.

Education
Our Department makes a significant contribution to the education of biology students, biology teachers and biophysics students, predominantly through delivering lectures and conducting practical laboratory activities related to cell biology and the anatomy of plants and fungi. Students pursuing biology through BSc, MSc and postgraduate (doctoral) training are also introduced to various areas of modern plant biology, mycology and natural product research, as well as to the relevant experimental methods and possible applications. The Department also takes part in the postgraduate microbiology education of Eötvös Loránd University, as well as teaching pharmacy students from the Semmelweis University, Budapest.

Research
Similarly to the education, research topics are both thematically and methodologically diverse at the Department of Plant Anatomy. In many cases research is undertaken in cooperation with national and international bodies. The Department's four main research directions are: (i) Studies dealing with the structural and functional changes of plastids (e.g. plastid differentiation photosynthesis) induced by environmental stimuli, along with associated. (ii) Applications of different microscopic techniques and ultrastructural investigations to clarify functional questions of plant and plant-microbe interactions. (iii) Identification and isolation of natural bioactive metabolites of plant and fungal origin, analyses of their occurrence and studies on their use as potential medicinal compounds. (iv) Research focusing on the diversity, function and the importance of pathogenic and symbiotic plant associated fungi.
The Department's work on cell biology, functional plant anatomy, and mycology, has led to the accumulation of a significant breadth of knowledge, which is largely connected to other biological fields, as well as to analytical chemistry and pharmaceutical sciences. We also have expertise in the application of a range of microscopic methods (electron microscopy, confocal laser scanning microscopy, and various light microscopic techniques) which can be coupled with research methods and techniques from other specific fields, such as various chromatographic methods (UPLC-MS/MS, HPLC and GC) and spectroscopy (CD, NMR, fluorescence spectroscopy and small-angle neutron scattering), PCR techniques, molecular phylogenetic analyses and comparative genomics, fluorescence in situ hybridization, and research methods of photosynthetic parameters.
Our research is supported by several grants from the National Research, Development and Innovation Office (OTKA, GINOP, VEKOP, NVKP, etc.) and the Hungarian Academy of Sciences. Each year we publish 20-30 scientific papers in prestigious journals.

Life at the Department
The cooperation between our different research groups and with other departments of Biological Institute and Eötvös University, as well as with other Hungarian and foreign institutions, has led to a genuine interdisciplinary environment. The international collaborations of the Department are enhanced by the training courses associated with undergraduates and PhD students from the English and German groups from Semmelweis University, by the Stipendium Hungaricum and ERASMUS scholarship fellows, and by interns and visiting researchers from a range of countries.

Career prospects
As a result of the diverse research directions, the Department of Plant Anatomy provides both thematically and methodologically diverse opportunities for students to explore the fields that they find most interesting. The degree of collaboration and cooperation within the Department and the University, as well as the various but interlinked topics, supports rapid professional development and provides an opportunity for students to acquire an enhanced understanding of complex topics through interdisciplinary exposure.
The Department trains students as future researchers and teachers, who may find positions at national and international universities and research institutes. Students may also go on to take up employment in the industrial and agricultural sectors.

How can you join in research conducted at the Department?
The simplest ways to join in research at the Department of Plant Anatomy are through undertaking a BSc in biology, or being a biology teacher student of Eötvös University, or being a pharmacy student of the Semmelweis University. We are also open to considering applications from students from other specific fields or students with other majors. If you are interested in any of the above topics, or in a certain subject, please contact our Department staff.
After graduating from BSc, you may choose the Plant Biology MSc specialization and acquire further comprehensive theoretical and practical knowledge of the field. The Experimental Plant Biology Program of the Doctorate School of Biology provides another opportunity to continue your studies and to gain a PhD degree. These postgraduate programs require full commitment, motivation and creativity.

Where can you apply for diploma work or for undergraduate research activity?
If you are interested in any field of research at the Department of Plant Anatomy, please contact the corresponding teacher or researcher personally or via email. Information on research topics and groups, as well as the contact details of our researchers/teachers can be found at the
website of the Department
.