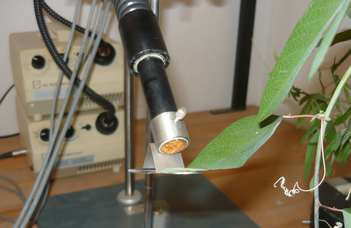 Department of PLant Physiology and Molecular PLant Biology
tanszékvezető:
cím:

telefon:
fax:
honlap:
Ferenc Fodor habil. assoc. prof.
1117 Budapest, Pázmány Péter sétány 1/C.,
4. emelet
(+36-1) 381-2163; (+36-1) 372-2500 /8063
(+36-1) 381-2164
www.novenyelettan.elte.hu
Description of the scientific field
Classical and molecular plant physiology is aimed to investigate the physiology, molecular biology and ecophysiology of plants together with their interaction with other organisms such as fungi. The area of interest includes field and individual (without and with fungal symbiont) level, studied by biophysical, photobiological, metabolite and proteomic techniques to the molecular biology of plants, the plant breeding and the agrarian biotechnology. The research area of the department is in a close connection with instrumental analytical chemistry and atomic physics research (agrochemistry, soil science, plant ionomics).

Teaching
Within plant science the education profile of our department focuses on the metabolism, development, photobiology and molecular biology of plants together with mycological (fungal metabolism) and ecophysiological courses. Plant physiology as an independent discipline was first introduced to the educational profile of the Eötvös Loránd University by Sándor Mágocsy-Dietz around the end of the 19th and beginning of the 20th centuries. The predecessor in title of our department was founded by Árpád Paál de facto in 1929 and de jure in 1943. According to the present status of the discipline, plant molecular biology was incorporated to the educational profile.
Lecturers of the department give a look inside to all disciplines of plant physiology and molecular plant biology for students choosing courses in plant biology, including metabolism and development of plants, plant photobiology and fungal physiology. Students can also acquire practical knowledge of plant science, since they are educated on the instrumental setup also involved in the scientific research work.

Research
Among the greatest challenges of humankind in the 21st century are the increasing population and the enhancement of extremities in the climate that not only influence the natural flora but the agricultural lands as well. Plant science: plant physiology, molecular plant biology and mycology are aimed to understand these processes and eliminate their effects. Among the research topics of the department there are field ecophysiological and plant-fungus interaction studies (at inland and European sites) and laboratory physiological and molecular biological topics, too:
Investigation of the iron homeostasis and iron uptake system of plants including the uptake and utilisation of iron containing nanomaterials
Metal uptake and accumulation of energy plants. Stress tolerance, recultivation, phytoremediation, and utilisation of sewage sludge.
Physiological and molecular biological background of desiccation tolerance in plants.
Mechanism of action of some stress protective compounds of natural origin
Studies of wheat storage proteins in a model system
Edible vaccine production in GM plants
Producing marker-free, visually distinguishable transgenic plants
Biology and application of ectomycorrhiza
Biology and agronomic use of arbuscular mycorrhiza
Investigation of coenologic and soil properties of the natural habitats of hypogeal truffles for establishing orchards.
Biotechnological investigations of insect pathogenic fungi.
Other scientific disciplines such as plant anatomy, optics and biophysics, instrumental analytics and agrarian technology are also involved in these research fields.
The department has nine full position employees (lecturers and researchers). Research groups overlap since they are formed on the basis of research projects rather than individuals. Ongoing investigations are supported by the National Office for Development, Research and Innovation of the Hungarian Government and the Hungarian Academy of Sciences. As a result of the intensive research the research groups are often publish their results in leading journals of plant science, mycology and agronomy.

Life at the department
Besides biologists, chemists, physics and agrarian engineers are also involved in our ongoing investigations. Students are hosted from European and non-European countries for studies, to be involved in scientific research and for traineeship each year.
English is used constantly or temporarily in certain research groups as official language, thus not only hosted students but also Hungarian students can gain practice in an international environment. The connection network of our department is widespread thus there are strong connections to other groups all over inside and outside the EU.

Career opportunities
Based on plant ecophysiology, experimental physiology and molecular plant biology courses, former students are successfully employed both in research and industry in the field of agrarian biotechnology, pharmaceutical biology as well as at environmental protection organisations and national parks. Some of our previous students continued their studies and obtained grants at European and overseas universities or got employed at inland research institutes, universities or research & development companies.

How to get involved in plant biology?
To be a plant biologist, the best way is to participate in the bachelor studies in biology at Eötvös Loránd University first, than continue the studies at master level in the specialization Plant Biology. Being bachelor and master student, there are more and more opportunities to take up courses focusing on plant biology and got involved into scientific research. At master level, students can get special knowledge in plant physiology, plant anatomy, molecular plant biology, pharmaceutical botany and mycology.
The education of plant biologists continues with a 4 year doctoral study period in the Doctoral School in Biology, Experimental Plant Biology program. For a successful entry bachelor and master diplomas, excellent research work, adequate knowledge in English and personal qualities such as tenancy, motivation and creativity are required.

How to find a student research project?
Get contact to staff members whose research topic is interesting for you. E-mail addresses are available here.
To get information on the ongoing research and open programs of the Department of Plant Physiology and Molecular Plant Biology, please visit: