Innovation Fair and Career Day at the Faculty of Science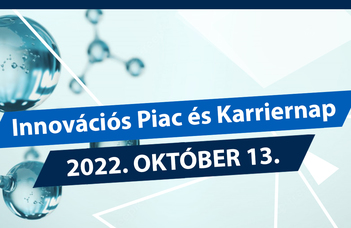 This autumn, on 13 October, we will be organising a new event at the faculty called Innovation Fair and Career Day, to create a new tradition. The aim is to showcase the innovation potential of the faculty. The event will provide an opportunity for research groups and industrial partners from the faculty to present the results and directions of their joint work at booth, which students will also be able to join.
We will organise round-table discussions on a variety of topics, and our invited speakers will include a number of internationally renowned researchers who will talk about their paths to success. An important aim of the programme is for researchers to get to know each other's work, and for students and the general public to see the diversity of the work that goes on within the university.
External companies will also be given the opportunity to present themselves, with their own booth, to show students what they can do with their degrees and perhaps even to generate further collaborations.
COMPANIES, that will be present during this day
BD - Becton Dickinson
Ceva-Phylaxia
Citi
Clementine
Coloplast Hungary Kft.
CycloLab Kft
EGIS Gyógyszergyár Zrt.
ELTE Karrierközpont
eNET Internetkutató és Tanácsadó Kft.
Enjoy Robotics Zrt.
Ericcson
Euroapi Hungary Kft.
Eurofins Scientific - korábban Wessling Hungary Kft.
Hidrofilt Vízkezelést Tervező és Kivitelező Kft.
H-ION Kutató, Fejlesztő és Innovációs Kft.
IMSYS Kft közösen a Fővárosi Levegőtisztaságvédelmi Kft. – (FLA Kft.).
Inwatech Környezetvédelmi Kft.
Környezetvédelmi Szolgáltatók és Gyártók Szövetsége
Központi Stasztikai Hivatal
Magyar Nemzeti Bank
Morgan Stanley
MSCI
NN Biztosító Zrt.
Országos Gyógyszerészeti és Élelmezés-egészségügyi Intézet
Sanofi Gyógyszeripari Vállalat
Soneas Vegyipari Kft.
Synlab Hungary Kft.
Ramasoft Adatszolgáltató és Informatikai Zrt.
Richter Gedeon Nyrt.
UTB Envirotec Zrt.
Vascular Ventures
Voovo startup
WorldQuant Research Hungary
A lista folyamatosan bővül
PROGRAMME - the programme is being organised, with a final programme expected a week before the event and it will be hold in hungarian.
Időpont
Room Harmony
Gömb aula small room
10:30 - 11:00
Megnyitó
11:00 - 12:00
Institute of Physics: What is a degree in physics worth?

11:00 - 11:20
Richter Gedeon Nyrt.
11:20 - 11:40
Ceva-Phylaxia
11:40 - 12:00
Coloplast Hungary Kft.

12:00 - 13:00
Institute of Mathematics: What is a degree in mathematics worth?

12:00 - 12:20
Sanofi Gyógyszeripari Vállalat
12:20 - 12:40
Regulatory előadás
12:40 - 13:00
Vascular Ventures

13:00 - 14:00

Institute of Chemistry: Challenges in chemical R&D: digitalisation, sustainability and the environment

13:00 - 13:20
Morgan Stanley
13:20 - 13:40
WorldQuant Research Hungary
13:40 - 14:00
BD - Becton Dickinson

14:00 - 15:00
Department of Geography and Earth Sciences: what career opportunities are there after graduation?

14:00 - 14:20
Soneas Vegyipari Kft.
14:20 - 14:40
H-ION Kutató, Fejlesztő és Innovációs Kft.
14:40 - 15:00
Citi

15:00 - 15:30
Institute of Biology: round table discussion on the degree opportunities in the diploma
15:00 - 15:20
Ramasoft Adatszolgáltató és Informatikai Zrt.
15:20 - 15:40
Clementine
15:30 - 16:30
Dr István Greiner:The success story of cariprazine
15:40 - 16:00
Hidrofilt Vízkezelést Tervező és Kivitelező Kft.
16:00 - 16:20
MSCI
16:30 - 17:30
Interview with Norbert Párdi on the road from basic research to innovation
17:30
Prize draw
Innovation Fair and Career Day
DATE: 13.th october 2022. 10:00-18:00
LOCATION: Faculty of Science, Northern building, main hall