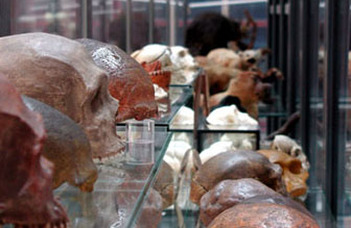 Department of Biological Anthropology
head of dept.:
address:
room:
phone:
fax:
web page:
Krisztina Takács-Vellai assoc. professor
1117 Budapest, Pázmány Péter sétány 1/C.,
4.2
(+36-1) 381-2161; (+36-1) 372-2500 /8061
(+36-1) 381-2162
anthropology.elte.hu
Research fields of human biology
Human biology includes numerous disciplines (human genetics, human evolution and evolution of primates, human population genesis, human morphology, morphometry, auxology). Human biology focuses on the temporal (ontogeny, evolution, secular trends, biological reconstruction of past populations) and geographical (population differences, geographical variations, haplotypes) diversity in the development and morphology of the human body. Furthermore, research on the field of human biology includes the overview of abnormalities in the structure and function of the human body (human genetics, paleopathology). Anthropological and human genetical methods applied on past and recent populations are used in human biology research.
As human biology have numerous connections with distant disciplines, besides biologists and biology teachers we lecture students from department of archaeology, geography and earth sciences.

Teaching
In the human biology education we would like to express the diversity discussed above.
Human growth and development
The course summarizes the main processes of prenatal and postnatal development, from the proontogenesis through fertilisation to the development of human organs and organ systems, as well as the morphological comparison of fetal and developed organs.
Paleopathology
The course will introduce students to the aim of study ancient diseases and how to recognize the paleopathological alterations. Sources, difficulties, and limits of paleopathology are presented based on recent scientific papers.
Human evolution
The aim of the course is to present general characteristics and taxonomy of primates based on anthropological and genetic results. Primate and human evolution, including appearance and migration, are discussed considering the fossils and the newest genetic results.
Physical anthropological research methods
Within the course the classical anthropoligical methods (age estimation, sex determination, osteometry, craniometry) are presented in practice. The interdisciplinary approaches (stable isotope analysis, archaeogenetic) and their potential in bioarchaeology is discussed based on recent scientific papers.

Research
The current research topics of the Department of Biological Anthropology: Physical anthropological research and biological reconstruction of past populations of the Carpathian Basin – with special regard to the origin and continuity of prehistoric and Migration Period populations. Diseases, health, well-being and lifestyle in pre/historical periods. The growth pattern of children with hypothyroidism. The relationship between vitamin D supply and body structure parameters in children. Age changes and sexual dimorphism in basal metabolic rate. Analysing the biological function of tumor suppressor and metastasis inhibitor genes using a genetic model organism, tumor cell lines and human patients' samples.

Activities at the Dept. of Biological Anthropology
In our research, conducted at the Human Biology Department, not only biologists, but physicians, physicists, IT scientists and engineers are also involved.
We investigate our projects in several domestic and foreign collaborations.

Career opportunities
Knowledge obtained in our department and during the MSc studies in the Humanbiology/Neuroscience specialization enable students to medical-biological research as well as work in developmental departments of companies ranging from innovative start-ups to big pharma. After getting the MSc degree, the students can start PhD education. They are welcome to start PhD education in our Program as well. The MSc students in human biology specialization can start their careers in Hungarian and Foreign museums handling anthropological collections, as well as in forensic, epidemiologic and higher educational institutions.

How can I become a human biologist?
The easiest way for the candidate is to apply for the ELTE Biology BSc program. As an undergraduate student, it will be possible to take more and more courses involving different subjects in human biology and become familiar with research studies at the department. The next step is to take part of the Neuroscience and Human biology MSc specialization, where more knowledge can be learned on the field of human biology and its closely related disciplines (e.g. physiology, genetics, evolutionary biology).
The qualification of anthropologists is completed with a 4 year PhD education at the Doctoral School of Biology. The successful applicant must have a BSc and a MSc degree, a good command of English and personal qualities such as perseverance, motivation, creativity.

How can I apply for a project conducted by the Dept. of Biological Anthropology?
If any topic raised your interest, e-mail the corresponsive researcher.